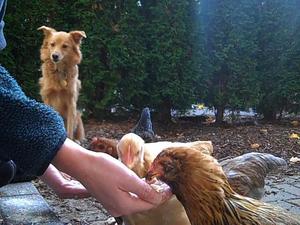 According to Shannon Brines of Brines Farm, "Slow Food was a political movement when it started." He mentioned this in the context of individuals in the US being encouraged at the last Terra Madre meeting to find ways to be more active in their food community.
The best example I have run across lately of such action is a documentary outlining the burgeoning greenhorn farmers around the USA. The Greenhorns network is more than a documentary. It is a resource and a rallying call to change the way we think of producing and consuming food in this country.
I have to warn you, watching their trailer gives me goosebumps, so you are about to get a patent endorsement of what they are advocating. I have been devouring their blog, website, and associated links ever since I learned about them.
Greenhorn means an "inexperienced, gullible person." Perhaps I am both as I idealistically pour over the Greenhorn "Guide for Beginning Farmers" in front of the fire. However, there are Friday evenings in the winter when I do a tour of my larder, bare from the Farmers Market, my sprouts not yet full size, and all options rely on canned tomatoes or canned applesauce. While I am a big fan of pasta, bean soup, or grilled cheese with applesauce for dinner - I miss the variety of summer. I wish we had more local food options around for fresh produce.
As I continue to mull over the problem, I think of Shannon Brines deciding to give it a whirl and building his greenhouse. He can't be alone to feed all of us fresh lettuce. He needs company.
Perhaps the trailer will give you goosebumps and you too may become classified as a greenhorn.
Here is the article on annarbor.com!