When I grew up in Washington DC there was a Chinatown. Now there is a Chinatown Gate you can walk by on your way to eat a Fuddruckers before you shop at Urban Outfitters and get a new phone at the AT&T store (not that I am nostalgic). When I was small, and we had a visitor from out of town, our family would head to Chinatown for Sunday morning dim sum.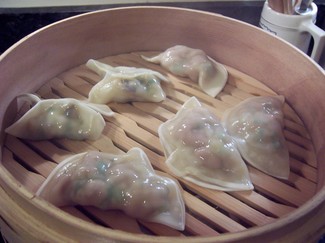 I love dim sum. Whether you call them potstickers or dumplings, they are entrenched in my happy childhood memories.
Those long ago Sunday mornings waiters pushed around trolleys filled with towers of pork baked buns, shrimp dumplings, turnip cakes, shrimp toast, sesame balls, sticky rice in a grape leaf, mushroom dumplings, on and on. It was all there to choose from. Waiters came up to the table and lifted lids to show towers of hot food. You would pronounce whether the dish was worthy to joust for room on the table.
I vividly remember Chinese New Year.
A large, articulated and colorful dragon soared over my head as its long body weaved through the tables to the street. There were drums, there were firecrackers, and there were people shouting and yelling in a unfamiliar language. The clash of the cymbals pulled us out to see the celebration on the street - to see the noise, the smell, the exuberance. Like the scalding tea served at the round tables, (which my olfactory memory tells me now was Pu-erh) it left an indelible mark on my psyche.
Dim sum is the traditional breakfast or snack served along tea in China. Some feel the origins harken back to teahouses that lined the Silk Road. It is possible to find restaurants with a dim sum buffet or an a la carte menu. But for me, the experience is indelibly fused with the theater of the trolleys weaving around the dark room. As a seven year old, such power in choosing what I wanted to eat, "Three plates of shrimp dumplings, please," has placed dim sum on its own pinnacle.
Much of my dim sum experience rests on the variety of dishes. As such, I have been slow in seeking ways to learn how to make dumplings. However, recently I had the opportunity, and it is much easier than I thought (dare I say, it is a smaller variant of the pot pie?)
The first thing my Korean friend shared is that one can purchase dumpling wrappers at the Man Na Oriental Food store on Broadway. She prefers dumpling wrappings with rice gluten added, making them more malleable than just flour and water.
In terms of what to put inside the dumpling, it is a question of whatever you want the final product to taste like. Our recipe called for beef/pork cut small, bean sprouts, spring onions, garlic scapes, tofu, an egg, ginger, toasted sesame oil, and a couple of splashes of soy sauce to taste. She wrung the moisture out of the vegetables so they would not give off too much liquid when cooked. To remove moisture from tofu she gently massaged the tofu through a tea towel. The key is to get the filling to the consistency of a burger and the moisture level of a wet stuffing.
After you form the round wrappers around the filling the dumplings are steamed for 5-7 minutes, until the meat is cooked. We did mushrooms only, as wel,l and they were cooked before being formed into dumplings, so the cooking time is shorter. At that point you can eat them, or you can fry them for a crispier texture. I prefer steamed.
As my friend said, "You always have the opportunity to make the dumpling dazzle with your sauce, if you forget to put in enough ginger or salt."
My favorite sauce for dunking dim sum is rice wine and soy sauce in equal proportions. You can also add red chili pepper flakes, toasted sesame oil, or ginger.
Happy Dim Sum!
Here is the article on annarbor.com.
(Note: My Korean friend is Ji Hye Kim, of San Street, good luck Ji Hye!)