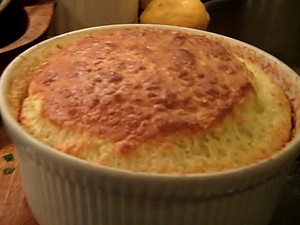 A daily miracle (to me) happens at our house every day. We feed our chickens water and grains and in return they lay eggs. EGGS. A distillation of all that is new and wondrous in our world happens in my back garden on a daily basis.
Miracle, yes. Wondrous, yes. Relentless, yes. Every day we get three or four eggs; with just two people eating, this is a lot of eggs. So we are seeking to expand our egg based dishes - emboldened by our success with Eggs Benedict we decided to hit another French Classic.
To be more specific, a cheese souffle. And once again, debunking the fear of the process and worry about slamming doors when the souffle was rising, I realized a very important thing. A souffle is just a fluffy variant of a baked omelet and is about as complicated.
Perhaps it was 10 minutes from start to finish before the souffle went into the oven.
Preheat oven to 375 and collect ingredients: 6 eggs, hard cheese ends from cheese drawer, anchovy paste (if desired), 1 cup milk, salt and butter.
T-minus 10 minutes - Grate about 1 ½ cups of cheese (we used Manchego, Comte, Sheep Gouda and a bit of cheddar).
T-minus 9 minutes - Butter inside of souffle dish, coat inside with cheese and turn on fire under butter in pan.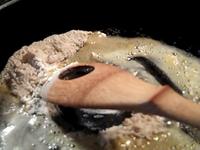 T-minus 8 minutes - Stir butter as it melts, add 2 tablespoons of flour to the butter and continue to stir (we are making the famous roux).
T-minus 7 minutes - Slowly add the milk to the flour and butter mixture to create bechamel sauce (one of the classic "mother sauces" of French cooking).
I had always been a bit intimidated by the making of such a schmancy sounding sauce. As the cold milk hit the perfectly combined flour and butter to create lumps at supersonic speed, my heart did a small back flip. However, I persevered and, by rapidly continuing to stir the mixture, the lumps disappeared. And they disappeared quickly. (Some recipes recommend scalding the milk prior, and I can see why.)
T-minus 6 minutes - Pour the bechamel sauce into a bowl and add salt, pepper and 1 teaspoon anchovy paste. (We like anchovies). Let sit to cool slightly.
T-minus 5 minutes - Separate eggs.
T-minus 4 minutes - Make sure that the racks in the oven are low enough so that the souffle will have room to grow. Scratch the dog.
T-minus 3 minutes - Whisk in the egg yolks into the bechamel sauce until incorporated.
T-minus 2 minutes - Whip the egg whites until soft peaks are formed.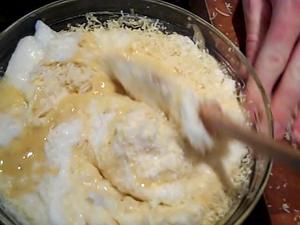 T-minus 1 minute - Using a large spoon, incorporate the egg whites and the cheese into the egg yolk bechamel mixture until completely amalgamated.
Pour into the souffle dish, gently carry to the oven and place slowly on the rack!
Now I had 35 minutes while that cooked (filling the house with the most alluring cheese aroma) to wash the dishes, make a salad and sit down with a glass of wine.
The results (for our first souffle) were sublime. Light, airy, full of flavor - superb!
Here is the link to the annarbor.com article!