Tom Zilke's passion and excitement for the second year of his vegetable growing enterprise is palpable and communicated. "My thing is, I like putting a seed in the ground and I like growing it. If I can do that, I am happy. I'm very content. Extremely happy doing what I am doing." His face crinkles into a smile and he does truly seem to be a man at peace with his life. Not only at peace, but thrumming with pleasure for his new projects and ideas.
After all, I am talking to a man who turned his swimming pool into a greenhouse.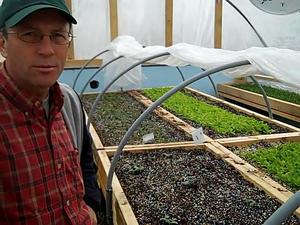 Three years ago, Zilke started growing serious amounts of vegetables on his 5 acres. Last year, Zilke Vegetable Farm signed up their first CSAs and started selling their naturally grown bounty at the Taylor and Ypsilanti Farmer Markets. This year they plan on selling at Milan, Dundee, and our very own Ann Arbor Westside Market as well.
They have the ability to cultivate 20 acres of virgin land and will be providing 100 CSAs this season (as of today there are still shares available). The first year Zilke's CSA shares were sold out through word of mouth and this year he found more customers through Local Harvest. (If you have never explored Local Harvest's website, it is a great resource for farmers markets, farms, and locavore information.)
Zilke and his wife are both avid gardeners. Zilke grew up on a 600 acre farm in Deerfield and worked as a landscaper for 30 years. When asked why they choose to start growing and selling vegetables, Zilke smiled, "I love this movement, what is going on right now. The grow local. I just want to be a part of it. I have farming in my blood. I grew up on a farm. I love growing stuff and it is fun being part of a movement like this."
As with all things in nature, every year is an experiment. This year he experimented with covering onions over the winter. We were able to squelch out into the field, covered with recent snow melt, to see the onions that had over wintered in the "low tunnel" hoop house. They were thriving under the cover.
The Zilke's encourage their customers to come out and visit the farm, whether to wander through the rows of growth, or to enjoy salsa making evenings. They are planting a smaller children's garden for the families. "We try to make it very family oriented."
Visitors to the farm can enjoy visiting an old barn, cats that twine themselves around ankles, the pleasure of seeing the miracle of plant growth, but they can no longer swim. The pool is now the greenhouse. As Zilke explained, "this was the swimming pool and I took out the lining out of it and added insulation. I had the hoops out in the barn. And I dug a hole 42 inches down from the house to here, and I am running a line from the basement." The line 42 inches in the ground is below the frost line and carries water, electricity, and airflow to the greenhouse.
There is already much being grown because Zilke is hoping for fresh greens to be available in mid-May, "just to get a jump on it." The Zilke's will be getting a jump and families will be able to visit and see where their food comes from.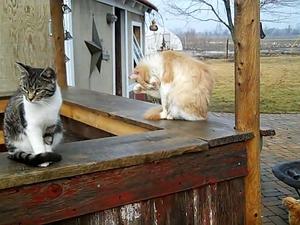 I got the sense from Zilke that was one of the many parts of his occupation that excites him. "A lot of kids they come out here and look at the broccoli. I don't know how many times I heard the kids come out and say, "Oh that is what a broccoli plant looks like?" Because they are used to going to some grocery store. They have no clue how it grows, what it looks like. That is why it is neat to give them some background."
I couldn't agree more.
Here is the article on annarbor.com!