History shares myriad examples of similar creative ideas simultaneously emerging in disparate individuals, who then embark upon parallel paths to bring their ideas to fruition. Lauren Zinn and Gillian Ream each were excited by the idea of running tours to local farms and learning more about the food systems. Courtesy of the Home Grown Summit and the Transition Ann Arbor Initiative Zinn and Ream connected: SIMBY (Sustainability in My Back Yard) Agritours is the fruit of that melding of creativity and excitement. When I sat down with Zinn and Ream recently, I was struck with their mutual excitement, their mutual curiosity and their propensity to finish each other's sentences. Their ability to speak with one voice about their vision bodes well for the future. Their mutual passion drives the tours they have planned for the spring season and their long-term vision for SIMBY Agritours.
Both women are long-term residents of Ann Arbor, have advanced degrees from the University of Michigan, and are passionate about enhancing the relationship between the farmer and the consumer in order to strengthen Michigan's local food economy and contribute to a more resilient community.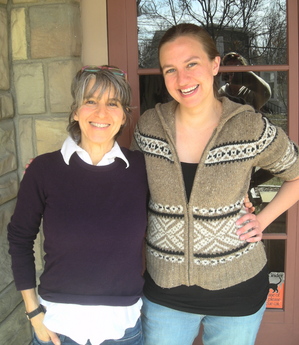 As they explain on their Web site, each knows everyone the other knows except in a different generation. Zinn laughs, "Everyone I know, she knows their kids, which makes me feel old, but it also makes me feel young." Ream jumps in, "Which works out really well because we have complementary networks."
The complementary networks have borne four tours to date in April and May and two more in the works. Based on the success of these first tours, Ream and Zinn will regroup and hit the ground running with tours in the harvest season.
The first tour planned is the School Farm Tour on April 17. The Ferguson Academy in Detroit serves pregnant students and young mothers. Part of their curriculum is a large urban farm. The school was featured in an award winning documentary, Grown in Detroit (trailer below). I also understand it is one of the 23 schools the city of Detroit, with budget constraints, has chosen to close. SIMBY Agritours compensates the farmer when their tours visit, I feel this program needs all the help it can get.
The next tour, on April 24, is of a horse farm. Learn the specifics of horsepower and what can be accomplished with four legs and a strong back!
Saturday, May , brings us to the Urban Farm Tour. The Thomason Family Farm is at the forefront of the Ypsilanti urban farming movement. Peter Thomason was instrumental in pushing to pass the Ypsilanti chicken ordinance, and he recently taught the "A-maizing Chickens!" class for Project Grow. His one-tenth of an acre serves as a home for French Hens, Mini-Nubian-Nigerian Dwarf Fairy Goats, Lionhead Dwarf Rabbits and organic produce. Sign up to see what can be accomplished in the middle of a city!
For Mother's Day weekend (May 8) join SIMBY Agritours for a visit to Amish farms and a 'transitional farm.' The Amish farms will focus on such questions you may never have had the nerve to ask at the Farmer's Market (I certainly have not). "How do you wash your clothes?" "How do you keep your food cold?" The evening will end with an Amish supper and a talk about land conservation.
The tour will also include a visit to a transitional farm, replete with a wind-tower. The barn has become a classroom and a hands-on museum for renewable energy.
Other tours in the works include a three-day Bike and Beer tour of the craft brewers of Southeastern Michigan and an exploration of several CSA farms with onsite markets.
As Ream says, "I feel that we are on the cusp of something that people want to have happen. You want to go out and meet your farmer and find out where your food is being grown. We are providing them a connection." Zinn jumps in, "We will be doing research and surveys on both sides to evaluate ways we can improve the connection as well." Ream speaks again, "The farmers and the people producing food are able to find out what people want to eat, and what consumers really want. There is a communication between them." Zinn finishes for her, "That social capital piece is really important."
They are still working on their tag line, but I really like this one.
The social capital piece of SIMBY Agritours for me is a triumvirate. Zinn and Ream, the food producers and the public - each learning and growing together as we strengthen our community through knowledge and communication. The first step you need to do is to fill out the sign up form, I look forward to seeing you on a tour.
Here is the article in annarbor.com!