The Westside Farmers Market (the market I work as the manager) runs June through September in Zingerman's Roadhouse parking lot (on the corner of Jackson and Maple) on Thursdays 3-7 p.m.
Ann Arbor has an abundance of food establishments. A plethora, a smorgasbord, a cornucopia, a wealth of stores to choose from - stores yes, farmers markets, ummm, not so much.
The Ann Arbor Farmers Market is part of our texture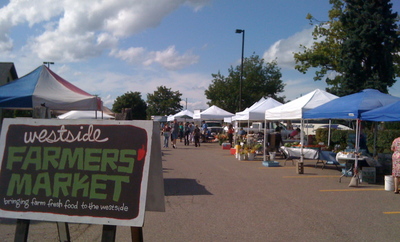 as a community. It is a place of gathering, it is downtown, and it is on everyone's radar as being "the farmers market." It feeds community, provides local produce, and strengthens the relationship between the farmers and the consumers.
However, if you are a new farmer wanting to find a market for your goodies during the harvest, "the farmers market" is fully booked.
In 2006, Chef Rodger Bowser of Zingerman's Deli, Chef Alex Young of Zingerman's Roadhouse, Zingerman's founders Paul Saginaw and Ari Weinzweig, and many others in the Zingerman's community decided it was time for a new market in Ann Arbor.
Bowser describes the different facets of their motivation to start a new market. "We realized there is a waiting list for the farmers market in Ann Arbor. We wanted to increase the capacity of food growing in this area. We wanted to offer them [the farmers] an avenue to sell. We also wanted a new outlet for consumers on the west side of town. We were looking for a new opportunity for both producers and consumers - to have a new outlet, a new market to choose from."
The market started with a small band of dedicated volunteers and a handful of brave avant-garde vendors. Steadily the market grew every year until I started volunteering with it last spring. And that spring brought unexpected twists.
Some of you may recall the zoning issue that happened last year with the Westside Farmers Market. To summarize, the Zingerman's Roadhouse parking lot (where the market is located) is zoned C3 by the City of Ann Arbor. C3 zoning, at that time, was not eligible for application of special use permits, therefore the market, functioning without a special use permit, was illegal. So, as of April 2009, the market was not going to take place.
After a great deal of community rallying and discussions, the City told us in May to move ahead, saying they would fix the zoning over the summer, which is what they did. It was awesome. For a native of Washington, D.C., like myself, it was a beautiful example of brilliant and timely action by the wonderful hard working members of our government.
2009 was a great season. A daily average of 600 visitors visited the 28 different vendors who set up in the wind and the sun. From Bizzy Lizzy's beet cookies, Swarm Naturals beeswax candles, Dragonwood Farm eggs and veggies, McLaughlin Farms grass-fed Highland beef, Seedling white peaches and Clare Limerick Alpaca Ranch soft wool - there was much bounty to choose from.
This year we have put in our special use petition to the city and approval is expected at the City Planning meeting on May 18. When we open on June 3, we will have many alumni as well as some new faces joining us: Zilke Vegetable Farm, Nakee Natural (handcrafted soap and skincare), Inchworm Microgreens, and Portage River Farm among others. We have been approved by the USDA to accept Bridge Cards and Project Fresh Coupons.
As we enter our fifth season, and I continue to receive vendor agreements, I empathize with the Ann Arbor Farmers Market vendor waiting list. Perhaps two farmers markets are not enough for all of our new farmers working to support themselves and feed their local community. We shall see what the future brings for farmers markets in Ann Arbor.
Here is the article on annarbor.com.