In the last 15 years the number of farmers markets in the U.S. has nearly tripled. Within a 100-mile radius of downtown Ann Arbor, there are 126 farmers markets.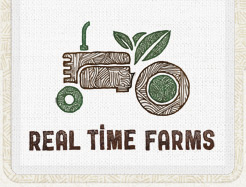 When Karl Rosaen, founder of Real Time Farms, returned from working at Google in California, he wanted to do something to help to connect consumers to the burgeoning resources in our local foodshed. "There is such great variety of food around, I just felt the data for how to find it wasn't so great."
To that end, Rosaen started a website that works to connect people in real time to pictures and information about what is going on at farmers markets.
When Rosaen moved back to Ann Arbor with his wife in the fall, he started "networking with people in town." While reacquainting himself with the food scene in town, he coded his website, which went live on April 30 - just in time for the market season.
The website works as an information hub for farmers, farmers markets, and comments about the food. You can upload a new market or a new farm, as well as pictures and comments of such. Rosaen tells me - "anyone who can email from a phone and attach a photo can do this."
So I asked him, "I am going to the Ypsi market this afternoon, practically, how does this work? Do I write the name of the market in the subject line and email the photo directly to share@realtimefarms.com?"
Rosaen answered, "iPhones and Android phones have GPS as part of them, so your picture would be tagged with that information. Because the Ypsilanti Farmers Market is already on realtimefarms, when the website receives the photo from the email it will figure out the location on the photo and find the closest farmers market and post it right to that farmers market report."
So I went to the Ypsilanti Farmers Market and I took a picture of cheese from Aubrey Says MMMcheeze's booth (Aubrey Thomason wholesales her cheese from Zingerman's Creamery). I immediately received an email telling me that I could continue to send in posts and a link for when I was ready to "claim my account."
The email also told me to "gather what produce is available from a single farm … include in the subject the name of the farm and where it is located … attach a photo of the stall … and in the body, add any other details that might help others identify the produce [such as the name of the varietals]."
Posting pictures with your phone is a very simple way to help advertise and support your favorite market. Rosaen is looking for "more people who are willing to contribute so that more markets can be sustained than just what I can physically do myself."
Rosaen's long-term vision is create "an ecosystem of food" by working with restaurants to showcase their support for local food.
Last weekend, Rosaen was unable to personally visit all of the farmers markets on Saturday for the site, "but two people posted really good pictures and a report from the Chelsea Market. That is what this is all about. If that can happen for every market in the country I will die a happy man."
Here is the link to the article on annarbor.com.