I think all of us have certain foods from our childhood that can never truly be replicated as adults. I don't know if I will ever be able to recreate what I hold up in my memory as the perfection, the glory, the spine-tingling delectableness of strawberry shortcake. The reason why I might not ever be able to truly experience my childhood strawberry shortcake again is because it was the one dish - the ONLY dish we were allowed to lick clean at the dinner table.
That sense of transgression and condoned naughtiness I am sure added flavor. I may not be able to completely recapture what is in my memory, but during strawberry season in Michigan, I can certainly try. (Check out Ed Vielmetti's post for U-Pick options to find strawberries.)
Everyone seems to have their own variation on the classic dish, mine includes four ingredients one constructs onto the plate: whole strawberries, cut strawberries that have sat for a few hours in sugar to pull out the juices, real whipped cream (with vanilla, pinch of salt, and some sugar to taste), and sugar biscuits.
I am four feet tall, right over the level of the counter, as I watch my mother construct individual desserts onto the plates. Split the biscuits in half, spoon liberally the cut strawberries with juice over the bottom biscuit, place the second biscuit half on top, ladle over more cut strawberries with lots of juice, put a generous dollop of cream on top, and finish off the dessert tower with a whole strawberry proud and tall.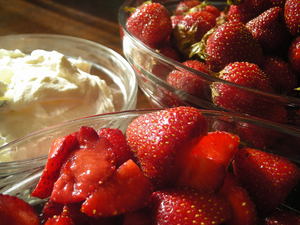 My goal is to make sure there is enough cream and strawberry sugar juice left over to clean the plate with my tongue at the table.
Here is the article on annarbor.com