This Tuesday evening at the Ann Arbor Library, June 15th, Slow Food Huron Valley will be meeting from 7-8 to inspire and enliven interest for their Slow Days of Summer Fundraiser Parties. The parties will run July 9-11 and are designed to rally the food community to raise money to send our delegates to Terra Madre, the biannual Slow Food conference in Torino, Italy.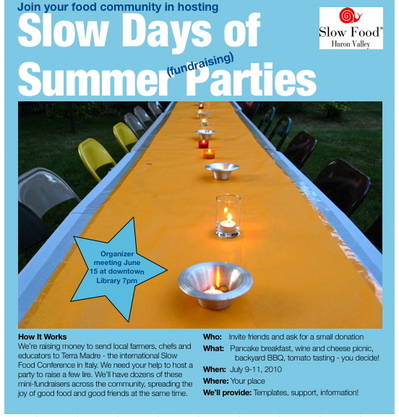 According to Slow Food USA's website, Terra Madre "is an international network of food producers, cooks, educators and students from 150 countries who are united by the common goal of global sustainability in food." The application deadline has passed and applicants will be notified of their acceptance on June 15th. This is the same date of the informational meeting at the Ann Arbor Library - so you will know exactly for whom you are throwing the parties. The purpose of the fundraising parties is to help chosen delegates with travel costs.
I recently sat down with Marnie Reid, the organizer for the event, to talk to her about what is planned.
Q: How many people are going to be able to go to Italy in late October?
A: Terra Madre puts together an application - this year's focus is people who have been involved with the Slow Food movement in their own community. The intent is that those people bring back what they learned and share it with our community. Shannon Brines calls Terra Madre "the Olympics of food." South East Michigan wants to be represented; I feel that there is enough of a community here that cares about food for that to happen. We hope there will be 3-5 people from our community able to attend.
Q: So the host is in charge of organizing the food, drinks, timing etc - like a normal party?
A: Yes, it is up to individuals to invite their own friends. We will provide a sign up sheet, tax receipt forms, an invitation template, ideas about where to purchase local food, and we are even brainstorming ideas for what kinds of parties can be done. It could be a picnic lunch with friends and kids in the park.
This reflects the goals of Slow Food Huron Valley - we are encouraging people to shop locally, cook with local ingredients, and engage with conversations about food with their friends - and if it can raise some money as well, then it is good.
Q: What is your ultimate vision?
A: I really think it would be fabulous if we could get meals all over Ann Arbor that weekend. I think it would be great if we could put together a list of what people are doing - because I think that is the fun part - to say some people are doing a breakfast with blueberries and someone is doing cocktails.
After talking to Marnie I wrote to Gretchen Gehrke, the woman supplying ideas for parties to help inspire people on Tuesday night. Here is a little sneak peak to whet your appetite (couldn't resist): Feast of Finger Foods, Ice Cream Social, Iron Chef (where all courses have share one common ingredient), or even Pick a Color Party (I did a party like that once for a friend who loves pink - beet risotto, salmon, strawberries - divine). All you need to do is to be willing to ask your friends for $20 or so to help support a worthy cause - Slow Days of Summer Fundraisers for Slow Food Huron Valley, I hope they become an annual event.
If you are interested in attending or hosting a party, contact Marnie Reid.
Here is the article on annarbor.com