In my Farm to Fork series I visit local farms around Ann Arbor and share what I learn.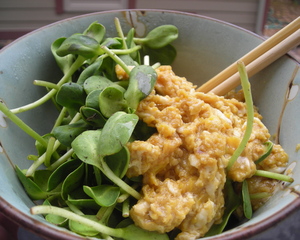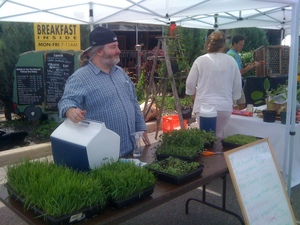 Steinberg has grown sunflowers, arugula, wheatgrass, beets, radishes, onions, cilantro, broccoli, adzuki beans, basil, collards and red kale in his back garden space. Originally, he had planned on offering a CSA of microgreen trays, but soon realized that he wanted more experience under his belt before committing to having a certain volume of produce available.
Steinberg's enthusiasm for his work is contagious, "I don't have to be up at 5 a.m., there is no weeding, there is no bending over, there is shade here, and within about an hour I am done for the week."
Steinberg's method is simple. He soaks the organic seeds overnight and rinses them.
Then, Steinberg sits at his table and plants 6 trays at a time.
Steinberg is careful with the moisture level, too much and the seeds will mold and too little and they will be stunted. The trays receive only water, no fertilizers or other sprays. Rain sometimes can be a problem.
In 10 days or so, depending on the weather, he harvests his microgreens. Steinberg shares with a grin on his face, "most of the time I don't have to wash because if I cut them high enough it is not a problem."
Then he tosses the cut tray root mass into the compost pile. At the moment Steinberg is using organic soil from Downtown Home & Garden and can fill 13 trays with one bag. Next year he hopes that his compost pile will provide all of the nutrient-rich soil his seeds require.
The next project for Inchworm Microgreens is growing microgreens without the soil. A perfect solution for tiny seeds or consumers who may want a plethora of choices and an option for Steinberg to continue Inchworm Microgreens inside his house during the winter. There is enough energy contained within the seed to sprout with water only.
Finally, Steinberg takes his trays and his cut bags of microgreens to the market. He has found that it is very important to sample because so many people are unsure as to what to do with the tiny delicate tendrils of green.
Sunflower microgreens are among my favorites. They are nutty, full of flavor, have a great texture, and are great both raw and lightly sautéed. I like to softly scramble two eggs from our girls with toasted sesame oil and soy sauce and mix it with the sunflower microgreens. Delicious!
Here is the article on annarbor.com!