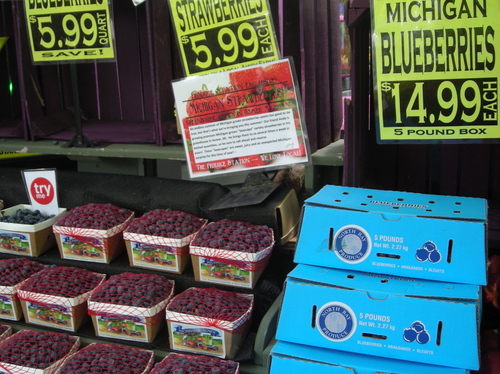 I came from the East, close to the ocean Picked blueberries at my grandparents' farm in Massachusetts Protected from birds and deer who might get the notion That succulent blueberries were good to eat
Because I certainly thought so.
Blueberries are perfect, A different color to be sure, But round, tart, and unusual. My favorite is blueberries just pure
Or with heavy cream and sugar on top.
I moved to Michigan five years ago in the summer And was faced with a strange and wondrous sight. What in the world is a lug? A lug of blueberries, almost gave me a fright
But not really.
A five-pound box of blueberries, What riches, what wealth! What a glorious opportunity for decadence And indulgence without stealth
So I started buying.
Last year I ate 15 lugs of berries Which is conservatively quite a few They are so handy, so pop-able, so easy So round and ready and blue!
A perfect summer treat.
Blueberry lugs have arrived again, To my joy and delight The only question remaining - will I pass last year's record, This year I just might.
How do you like your Michigan blueberries?
Here is the link to the article.