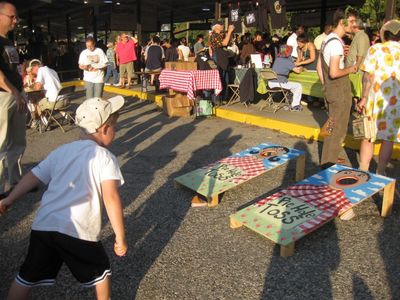 In 2008, over 1000 people flocked in the pouring rain to the first HomeGrown Festival in the Community High parking lot. Last year, the HomeGrown Festival moved across the street to the protection of Kerrytown and hosted over 5000 people. The weather was perfect. The smorgasbord of sounds, flavors, food, music, and NGOs was breathtaking. From baby chickens, to bees, to solar drying of fruit, to locally prepared gazpacho and chicken, bellies and brains were stuffed with great flavors and new ideas about community food security.
The third HomeGrown Festival, taking place from 6-11 pm on September 11 at Kerrytown, promises to solidify its role as the "annual celebration of our community, our farmers, and our region's incredibly diverse (and tasty) food," as described by Kim Bayer - one of the main organizers of the event.
Completely volunteer organized and staffed, the HomeGrown Festival embodies what is possible in grassroots activism. By request of the organizers, the Major is expected to once again proclaim September as Ann Arbor's "Local Food Month." Only those businesses that commit themselves to the local economy were offered sponsorship or booth opportunities. The HomeGrown committee intends to make the "event as close to zero waste as possible," says Bayer, "the Washtenaw Biking and Walking Coalition will be offering their "bike valet" parking and security service to make it easy to arrive by non-motorized transport."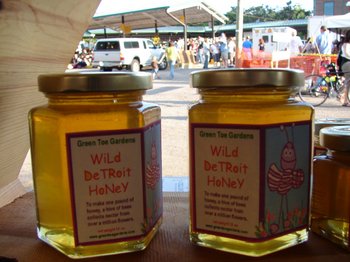 When you arrive to the festival, there will be many things competing for your attention and time. 12 local chefs have been matched with local farms to prepare tasting portions of harvest fare, designed to spark creativity and sparkle taste buds - all food portions cost less than $6. 10 Michigan beer and wine vendors will have tastings. 4 local bands will be jamming on the Main Stage - as well as myriad acoustic sets. 35 local food and artisan vendors - from Westwind Milling to Durham's Tracklements to Mindo Chocolate to Farrell Fruit - will tantalize your tastebuds. Just in time for the holiday season there are over 40 items in their silent auction - donations from Michigan Theater, Downtown Home and Garden, and eve the Restaurant will compete for your attention and checkbook. There will be activities for kids and educational opportunities at many booths.
Mark your calendars now for what Jeff McCabe, another event organizer, describes as, "the big local foods party of the year!"
The HomeGrown Festival will take place September 11 in Kerrytown from 6-11 pm, they are looking for volunteers. Hope to see you there!
Here is the article on annarbor.com