Tuesday, August 24th, I wandered into the Lunasa warehouse on Jackson Rd because I needed soap. Much like the time I visited Ikea for a lamp and came home with a couch, I left Lunasa juggling my shopping for the week. Unlike my visit to Ikea, I was able to talk to the producers of the whitefish salad, sauerkraut, soap, chocolate, honey, vegetables, fruit, cheese, and bread that filled the warehouse space with color and texture.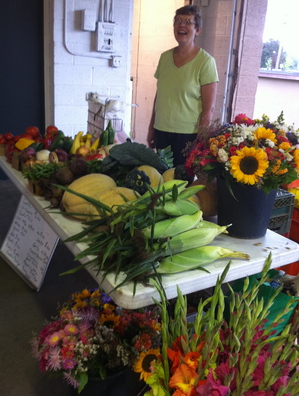 I wrote about Dawn Thompson and Jane Pacheco's vision for the online farmers market before the market opened and I was curious to see their plan in action. As I wandered around the tables and introduced myself to both familiar vendors and several I have not seen before in Ann Arbor, Dawn shared with me that Lunasa has experienced, "a 92% increase from the last market cycle. We are almost to 100 members."
I may have been the 100th.
The process is very simple. You enter the warehouse space (there is plenty of parking) and check in at the welcome table. Lunasa members are given a print out of their online order. Non-members are encouraged to wander around and then become a member. Membership is $40/year. All members are given a Market Day Receipt. Lunasa members who reserved items walk around to the producers to pick up what they reserved and if new things catch their eye, than the producer writes down the information on the Market Day Receipt.
If a member only wants what they pre-ordered, the pick-up can happen relatively quickly. If last minute items are added to a member's Market Day Receipt than there is a place to pay Lunasa with cash or a credit card. As Linda Purdy of Westwind Milling tells me, "it is a really great thing for a customer, you know you want this, you want this, you want this, and you just go by and pick it up and you don't pay me, me, me, me [her arms include the other vendors in the space] - you pay one time."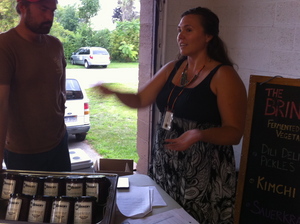 According to the producers, it is a great thing for them as well. Bob Jastrezebski, of Bobilin Honey, currently sells at the Canton and Wayne Farmers Markets and hopes one day, "to have it so that I bring everything here once a week and I never have to go to any other markets." Tod and Larry Williams, of Bay Port Fish Company, travel all the way from Grand Blanc to join the market. Larry feels Lunasa is, "kindof a good idea, because they are going to be open year round and we freeze a lot of filets — and we can smoke fish all year." (Eaters note: Their smoked whitefish salad was fantastic, clean, good chunks of fish, not gloppy.)
John Savanna, of Mill Pond Bread, is part of Lunasa because "it is a fantastic idea, and it will grow." Linda Purdy, of Westwind Milling, feels Lunasa, "is a good business model. It is easier and better. We stopped doing farmers markets, which is a drag because the customers are really cool, but with the economy right now, more people started making bread, money just went down. And the money goes down but you are working just as hard and spending just as much gas. At a normal farmers market you might sell everything or nothing, but this way you know that you already have this much gone, so you have made your gas money and all of the rest is extra."
Candy Sweeney, of Nakee Natural, thinks Lunasa, "will help with sustainable living." Sustainable living means the Michigan producers are able to make a market worth their time and travel expenses. Sustainable living means that consumers are educated about where their food comes from by the people who produce it. Sustainable living means Lunasa can afford to rent the warehouse and run the website to offer this service to the community.
Lunasa takes place the 2nd and 4th Tuesday of the month. The next shopping window is September 9-11. Or you can visit the warehouse on September 14th between 3-7 and become a member in person. Lunasa warehouse is located at 6235 Jackson Rd.