Corinna works at Zingerman's Deli with Ji Hye Kim, Kristen Hogue Jackson, and Katie Garlinghouse - of San Street and Working Girl Eats. Hosted by Tracklements (our very own nationally lauded Kerrytown smokery) and taking place in the performance space of Pot & Box, Saturday from 6-8 p.m. is your chance to meet "Ann Arbor's hottest food talent" in an intimate and informal setting. This is your chance to say, "I knew them when ..."
The line-up for the evening includes The Brinery, EAT, Farrell Fruit, San Street and Working Girl Eats. Five passionate businesses dedicated to the perfection of the masticated morsel. "Most of us started up in the last year," said Eric Farrell of Farrell Fruit. The proceeds from the event go to support the Fly Children Art Center.
The Brinery, which I wrote about in August, is the lacto-fermentation business of David Klingberger. His cheerful grin graces the Ann Arbor Farmers Market and Lunasa.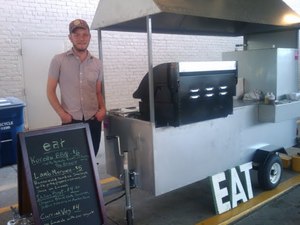 Helen Harding and Blake Reetz are the duo that comprise EAT. The pair worked together at the fabled Jefferson market and are taking their passion for eating seasonally and locally to their catering business. EAT is venturing into the mobile world of farmers markets; you may have seen their smooth operation at the Ann Arbor Farmers Market and tasted their delectable offerings.
Farrell Fruit is the sweet, smooth collection of homemade Michigan jams and preserves made by Eric Farrell. He does not use pectin or lemon juice in his preserves–just fruit and sugar.
Here is a small clip of Farrell describing his business.
San Street is the brainchild of Ji Hye Kim and Kristen Hogue Jackson. The duo is taking their, "fond memories of eating Asian street food off of their family dinner tables, and from street markets in Asia, and bringing it to the Midwest."
Here is a clip of Kim explaining the process of making dumplings.
Working Girl Eats is the brainchild of Katie Garlinghouse. She describes it as "inspired Tex-Mex … it is the food that I grew up with and it is the food that I really miss living in Ann Arbor."
San Street and Working Girl Eats are aspiring Zingerman's businesses. Choosing the next Zingerman's business is an extensive process of back and forth between the 16 managing partners and the advocates of the business. As Paul Saginaw said in June for arborweb.com, "We have a few in the pipeline right now [and it will be] a minimum of 24 months" before a decision is finalized.
Five different businesses, five different takes on how to tantalize your taste buds with locally sourced food. I plan on bringing a stack of small bills and a big appetite.
Pot & Box is located at 220 Felch St. The tickets are $5 in advance (can be purchased at Tracklements), or $8 at the door, for unlimited beer. Everyday Wines will be offering wine and champagne to purchase. There will be small plates offered by the different businesses up to $5, in addition to samples. Additionally, the businesses will be offering more of their wares to take home.
Here is the article on annarbor.com.