In my Farm to Fork series I visit local farms around Ann Arbor and share what I learn.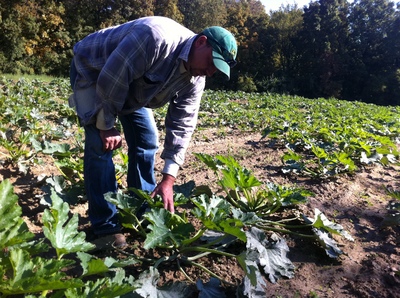 As Julie Wiernik wrote last year, Nemeth Greenhouse & Farms and Nemeth Orchards is five generations of a family working together to provide apples, vegetables, container plants, donuts and cider for those who visit their stalls at the Ann Arbor Farmers Market, the Westside Farmers Market, the Saline Farmers Market and their farm stand in Milan.
Jeff Nemeth
explained the workings of the Nemeth compound as we toured around recently. It was very clear from the outset it is a collective family effort and has been since Jeff's
great-grandfather
purchased the land in the 1930s.
Jeff's grandfather,
Alex Nemeth
, a spry octogenarian, has been running the orchards his "whole life." Jeff manages the produce. "My mom is in charge of when to plant things into the greenhouse and getting seeds," Jeff said. Jeff's wife makes the donuts in their certified kitchen. His aunt,
Dianne Nemeth Vargo
, is in charge of the
blog
. At any given market day, there is a chance you will meet cousins, friends of cousins, or the next generation – Jeff's two daughters.
The Nemeth greenhouses provide space for container plants and seedlings. Here is a video of the greenhouses.
Most vegetables are interspersed with the orchard trees on very sandy soil. Jeff farms a few fields away from his familial compound for the vine crops. As Jeff explained: "I had tried growing pumpkins for years and I could never get them until a couple of years ago. I was talking to a guy and he says that it is because of the sand -- the stems won't amount to anything on sand."
The Nemeth family uses overhead irrigation to water the expanse of cherry trees, apple trees and vegetables.
When asked about spraying practices, Alex smiles for his ready response. "Oh yes, got to, there is no way around it. We've got too many insects in Michigan and fungus diseases, so you can't get around it. Some people put up a sign that says, 'No Spray,' I don't believe it. We use imidan and guthion for insects. We mainly use assail and captan for funguses. Captan pretty much covers everything. I get more spray in one year than the average person would eating the apples in their lifetime. And the bad ones are gone; we used to have lead and arsenic and mercury and DDT – they are all gone."
Alex's apples are available along with cider and donuts. Here is a video of the cider apple cleaner and sorter.
The Nemeth family has been part of our food community for over 80 years. Jeff's vision for next season is to bring in a U-Pick Pumpkin patch next to their farm stand at 4260 Willis Rd. in Milan – adding another facet to the list of familial accomplishments.
Here is the article on annarbor.com