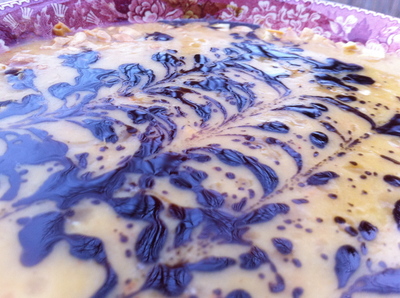 For me, in the deepening dark and solid clear cold of December, I want to be warm. I want warmth coming from the inside of my belly as well as from sweaters on the outside of my belly. Ginger, garlic, and chili peppers accomplish just that. Ginger, garlic, and chili peppers can be put on noodles (with soy sauce and toasted sesame oil), can be rubbed onto tofu or meat, and when there are bountiful pumpkins, sweet potatoes and potatoes from one's winter CSA – those three mainstays form the basis of a warming, winter soup……especially when you add peanut butter and coconut milk.
The intense flavor of raw ginger, garlic and chili peppers is thought to deter predators from foraging them in the wild. The internal components of the plants that create internal heat in the human body are thought to be the locus of their renowned health properties.
Ginger has been "used as a medicine in Asian, Indian, and Arabic herbal traditions since ancient times," according to the University of Maryland Center for Integrative Medicine. Garlic contains allicin, a sulfur containing substance that is released when garlic is crushed or chopped. Allicin exhibits antibacterial and anti-fungal properties in lab studies according to the Journal of the American Chemical Society. Chili peppers contain capsaicin, a phytochemical that behaves as an anti-inflammatory, anti-bacterial and metabolic enhancer. If you have shingles or minor pain from muscle sprains, your doctor can proscribe for you a Capsaicin cream, though the Mayo Clinic site quickly points out that, "this medicine will not cure any of these conditions."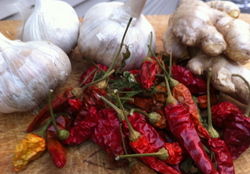 Proven or anecdotal health benefits aside, I like the three plants for their taste and the lively internal flush I feel when I eat them. The three flavors complement each other – generating a perfect symphony of tang and zest: the initial kick of the ginger, followed by the depth of the garlic, finishing off with a pepper bite at the back of the throat.
For extra depth of flavor and creaminess, I added peanut butter and coconut milk to this classic winter standby. Those can be replaced with soaked cashews or cream depending on your preference. Depending on the strength of ginger, garlic and chili pepper you can handle, adjust the amounts accordingly.
Ginger, Garlic and Chili Pepper Soup
5 cups or so of pumpkin, sweet potatoes, potatoes or squash
water or broth to cover (about 1 quart)
1 large onion
1 12 ounce can of coconut milk
4 tablespoons of peanut butter
8 garlic cloves
1 medium ginger root (about the size of your palm)
4 hot chili peppers
1 tablespoon sesame oil
Salt and pepper to taste
Lime juice, pumpkin seed oil, and toasted peanuts for garnish
Chop the ginger, garlic and chili peppers. Place them at the bottom of a soup pot with the oil and turn on low. While those are sautéing, chop the onion and throw it in as well. While those are softening and filling your kitchen with a swoon-worthy aroma, chop the pumpkin, sweet potato, potato and squash and add them to the pot.
Add enough water or broth to cover the cooking tubers and squash, add the coconut milk, add the peanut butter, put the lid on the pot, and leave it alone until the pumpkin and potatoes are cooked. (About 45-60 minutes).
In small portions, blend the soup together. Serve with lime juice, pumpkin seed oil and toasted peanuts for garnish.
Here is the article on annarbor.com