In my Farm to Fork series I visit local farms around Ann Arbor and share what I learn.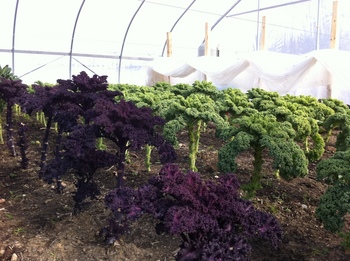 "People aren't willing to just eat potatoes and onions all winter long." Tomm Becker, of Sunseed Farm, stands in the one of their two unheated hoop houses surrounded by dark earth and verdant vegetables. "We believe that in order to have a really healthy food system we need to have a year round supply of food. It doesn't make sense to even talk about a food system unless you can supply food in the wintertime."
Tomm learned about supplying food in the wintertime as the Production Manager for the Student Organic Farm at MSU. He and his wife, Trilby, moved to Ann Arbor and started - Ann Arbor's first year round fresh vegetable CSA - as noted in the 2011 Local Food Victories awarded at the 3rd Annual Homegrown Local Food Summit.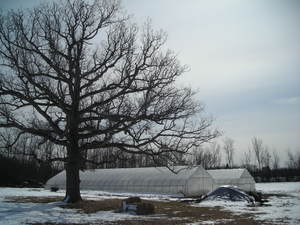 Supplying food all year long takes hoophouses (courtesy of Selma Cafe's Farmer Fund and the USDA), a regimented plan for the timing of plantings, and an awareness of which plants to grow inside the hoop during the winter. As Becker explains: "we grow either plants that you can harvest a bunch of times - like the kale or chard or the salad mix - or the really space efficient crops like lettuce, carrots, or spinach." Kale is very efficient, seeds planted in August have been harvested since November - four months. As their August plantings of salad mix and turnip are bolting they remove them and planting new seeds for the summer harvest.
Sunseed Farm uses a variety of methods to control pests and diseases: cover crops, rotational plantings, a broad array of vegetable species, the application of regular dish soap to remove aphids, and spraying nematodes (a microscopic soil organism) on the soil to reduce cutworms. "What we are working to do is to create an ecosystem in which the population of one pest/pathogen/insect is not exploding to the point where it becomes a real problem... [We are] increasing the biodiversity on our farm... to keep the insect pressure down... because when you have healthy soil you can have healthy plants. When plants have what they need they are able to resist attacks."
Another way Sunseed Farm protects and thus feeds the soil in the hoop house is by using a broadfork to loosen the soil for planting instead of turning it over with a shovel or tilling it. "[With a shovel] you might achieve a lot really quickly, but you are really setting back the soil biology by killing a lot of the microrganisms down in there...People have been using a broadfork for a long time, but [Eliot Coleman] brought it back." The 30 inch wide bar has 7 long tines - standing on it and wiggling it back and forth loosens the soil without destroying the fragile ecosystem.
The first week of March, Tomm Becker presented at both the Homegrown Local Food Summit and at the Michigan Organic Conference. He also welcomes interns and apprentices to Sunseed Farm. "I want to help people as much as I can. I don't really see myself in competition with other small scale vegetable farmers. I think that really what we are doing is trying to change the whole food system - helping each other is helping ourselves."
Customers can sign up for three 16 week shares: Autumn, Winter, and Summer. Sunseed Farm is accepting applications now for their Summer CSA share (sign up here). Located five miles north of Ann Arbor off of Joy Road, you can email them or give them a call! (517-980-0893)