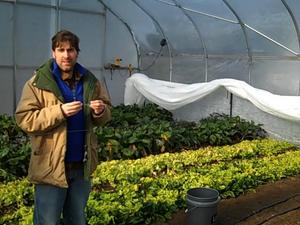 Shannon Brines of Brines Farm is a busy man. In addition to his full time job at the U of M Environmental Spatial Analysis Laboratory, he is the vice-chair of Slow Food Huron Valley, and the chair of the HomeGrown Festival. Yet for him the decision was straightforward to become a four-season farmer on top of his other duties. "I want to have a lifestyle that is sustainable and I love food, so I was like, this is obvious."
It is obvious to me that I wish Ann Arbor were ringed with similar greenhouses filled with fresh lettuce in December. I stopped purchasing lettuce imported from California last year when I did some math. The amount of calorie energy my body receives from eating lettuce in February does not justify to me the amount of fuel it takes to get to my plate. There is a fascinating article discussing this ratio (energy input: producing, processing, packaging, and distributing vs energy output: calories to the body). I also think that vegetables and fruits grown here taste better than the hardier varieties grown to withstand transport and sitting on the market shelf. True, I still purchase olive oil from Italy, Malbec from Chile, and Telicherry Pepper from India - but I don't eat bowls of olive oil, Malbec, and pepper everyday - I do eat bowls of vegetables everyday. Big bowls.
My decision to eat more locally sourced fruits and vegetables may not save the planet but it probably won't hurt. So as a self-confessed salad lover, vegetable maven, and devotee to all things green walking into a greenhouse to see the carpet of fresh spring greens cosseted from the frost and thriving within large greenhouses on a recent 18 degree morning was a worshipful experience. The contrast was breathtaking.
Shannon Brines described to me how he started. "I was looking around and realized that there really wasn't anyone delivering anything year round." He went to workshops, read books, and finally decided to give four-season farming a try when he built his first greenhouse in 2004. He had no experience with such a large scale greenhouse operation, but he decided to "give it a whirl."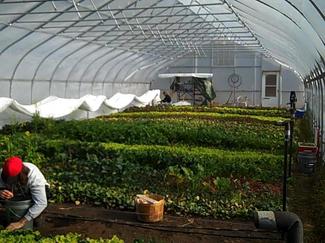 I think for many of us building a 90 foot long greenhouse might seem a bit daunting, but as Yoda tells us: "there is no try, there is only do, or do not." Shannon Brines has been doing - since 2004 he has built two more greenhouses. He started selling at the Ann Arbor Market in 2005 and continues to sell at Ann Arbor and the Westside Farmers' Markets. As Shannon tells me, while he harvests delicate yellow-green Tokyo Bekana, "It didn't take long for people to catch on when they realized I was gonna come in the winter with fresh greens."
And green they are. Growing in his three greenhouses are, "what everyone talks about as cold hardy plants." Looking at his list of goodies on his website, his plants are mostly varieties of brassicas. Many of his seeds come from the Johnny Seed's because, "Eliot Coleman lives near them and has teamed up with them before." (You may remember Eliot Coleman as an influence on Mark Baerwolf, at Cornman Farms.)
The greenhouses are built as a simple metal frame with two layers of plastic on the outside. A small fan pushes air between the two layers to create a layer of air insulation. Row cover fabric is pulled over the plants when the sun goes down as an added layer against the cold. "For the most part it stays above freezing at ground level - the light issue is really the biggest concern. The day gets so short. It is winter." It may be winter, but inside the greenhouses, with the sun glowing through the layers of plastic, it felt like early May as the warmth crept into my bones.
Brines Farm utilizes organic practices and finds for the most part that insects - both deleterious and beneficial find their way inside the plastic. With the large number of brassicas crop rotation is "a little tricky" so their current modus operandi is to spread a 5 gallon bucket of compost for every 12 foot bed. This practice is recommended by Eliot Coleman and Steve Moore (referred to in this article as the Gandhi of Greenhouses).
I had a chance to do some harvesting of the mizuna, a plant I was unfamiliar with until that morning. I took off my mittens, jacket, hat, scarf, and sweater to kneel down onto the dark earth in the warm humid space. Occasionally the 18 degree wind buffeted the walls, making the plastic bounce. Mizuna is bright green with lacelike leaves. I used paper scissors to easily cut through the tall stalks and place them into a cooler. The leaves were to be cleaned and separated in preparation for the market the next day. Saturday at the market, I was able to purchase a bag of Mizuna to taste the fruit of my efforts.
I poured some toasted sesame oil and soy sauce to heat in my iron skillet while I cut the delicate greens. Sauteing for 90 seconds at high heat I transferred the glistening greens into a bowl and sprinkled on toasted sesame seeds. The taste was less intense than arugula, yet still pleasantly peppery. I look forward to eating the rest of the mizuna as a salad under poached fish. The last time I had that meal was when my arugula came up last April. Thank you Brines Farm for making that possible in December.
Here is the link for the article on annarbor.com!