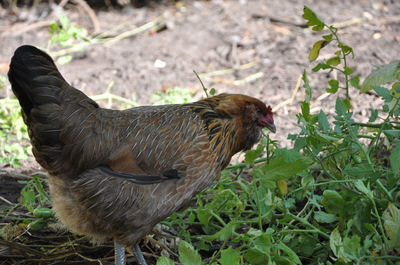 'Tis the season of lawn bags.
Bags made of paper, emblazoned with the name of the hardware store of choice (or smaller ones from the grocery store) line the curbs of my neighborhood. They are filled to the brim with orange leaves, cucumber vines, yellowed potato leaves or tomato plants. As Ed Vielmetti reminded
us
, our first frost is imminent and garden preparations are necessary.
According to the
A2 City Chickens
website, there are 34 chicken permits in the city of Ann Arbor. I believe that as the number of backyard chicken permits increase the number of lawn bags will decrease – because
backyard chickens
are your lawn bags.
I am a big fan of the Ann Arbor recycling and compost program. It is well organized, comprehensive and a boon to the community, as the EPA tells us: Reduce, Reuse, Recycle. Hearing that advice my brain immediately qualifies them into first, second, and third levels of importance. Hence, reduce is the top priority. So let us do a list of pros and cons of lawn bags vs. backyard chickens when it comes to garden waste. Lawn bags
Paper bags need to be made from trees (or post consumer waste), transported, and purchased.
Garden waste is collected.
You need two people to effectively cram garden waste into bags.
A diesel truck idles around the neighborhood picking up the bags.
Garden waste is composted at Recycle Ann Arbor.
Backyard chickens
Chickens need to be fed, housed, and watered.
Garden waste is hurled over the fence into their run.
Reducing the need to collect and transport garden waste is another boon of having chickens. As an extra bonus you can categorize their favorite treats; so far watermelon and squash rinds are winning over tomato vines in my yard. Here is the article on annarbor.com.