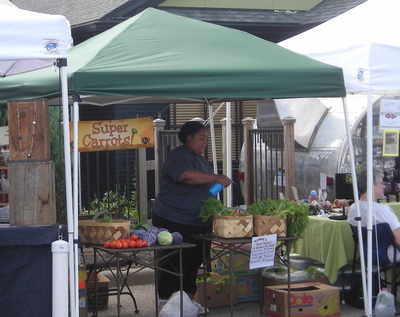 The Westside Farmers Market runs June-September in Zingerman's Roadhouse parking lot (on the corner of Jackson and Maple) on Thursdays 3-7 pm. I am an active volunteer with the market and provide an insider view of the establishment.
This past March, Missy Orge, Director of Outreach and Training for Food Gatherers, reserved a spot at the Westside Farmers Market to sell vegetables under the name, "Super Carrots," as part of their Community Kitchen Job Training Program (CKJTP). Seeds were planted, earth was watered, the sun shone down, and plants began to grow, and grow, and grow.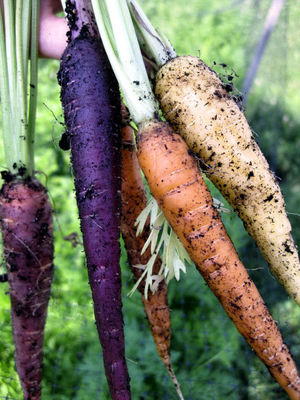 Thursday's market was a shining sunny day to welcome Tyena Lyons, Patti Ramos (intern from the School of Public Health), and Missy Orge to our rows of tents and tables selling carrots, cabbages, tomatoes, and broccoli. The vegetables were harvested that morning from the 8 raised beds at the Gathering Farm in front of the Food Gatherers warehouse on Carrot Way.
As you may recall, Food Gatherers exists to alleviate hunger and eliminate its causes in our community. In 2005, they implemented the Job Training Program for youth (ages 17-21) who work for 6 weeks to learn marketable skills in the food industry. In 2007, Food Gatherers began offering paid internships to the stellar graduates of the program.
Tyena Lyons is one of those stellar graduates. Lyons describes her experience, "the job training program here at Food Gatherers is great to bring the kids off of the street in the community that have been dealing with drugs, that have been abandoned, that have parental problems…the students are happy because they can come to someone who shows them love."
Lyons mans the booth at the market on Thursdays and she also assists Chef Ellen at the Delonis Center with the current students in the training program. The current class of students started with 14 and there are now 11 students. This attrition is not uncommon, Orge explains, "a lot of people come into the job training program thinking it is easy and fun, but they have to be there every day… But we especially chose Tyena for this project, so she can be the face of Food Gatherers."
Super Carrots will be at the market every Thursday until the end of September.