The Homegrown Local Food Summit celebrated its third year with over 300 people at Washtenaw Community College on March 1st. The sun drenched lobby shone down on the information booths and tables groaning under the bounty of donated food. Rachel Chadderdon, of Double Up Food Bucks, introduced the day's event as a way "to bring together leaders in the local food movement to reenergize ourselves."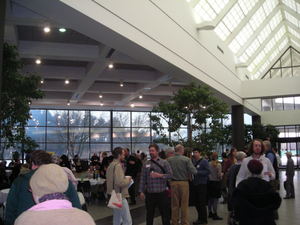 The conference had more of a conference like feel to it this year with a full morning of shared lectures and then break-away talks in the afternoon. The full morning started with a tag team presentation by Kim Bayer, of Slow Food Huron Valley, and Dan Bair, of The Farm at St. Joes, of our local food victories. Two keynote speakers: Dan Carmody, President of the Detroit Eastern Market Corporation, and Ken Meter, President of the Crossroads Resource Center, spoke to the larger world of food.
The morning wrapped up with four local food initiatives pitched by Mark Hodesh (for Mark's Carts and the Union Hall Kitchen), Aubrey Thomason (for her vision of Small is Beautiful Goat Dairies), Edward Weymouth (for Arborcycle), and Jeff McCabe (for his vision of building 20 hoops in 20 days).
All of that before lunch.
As Kim Bayer said in her introduction, "the local food victories inspire me to keep doing this. There is a network that is starting to form that can support our health and our community." She and Dan Bair read quotes from the recipients as the slides moved through the almost 30 local food victories.
2011 Local Food victories
A Local Food Victory Cluster: Johnson Jams "When Karen Johnson made a jam at the Preserving Traditions class last year, Emily Springfield told Karen she thought it was prize-worthy jam." When the Cottage Food Bill passed, Johnson Jams was born and eventually began selling at the Saline Winter Farmers Market. As Dan summarized, "it is a virtuous cycle, it is an example that demonstrates what is possible when the right pieces are in place."
Michigan Good Food Charter Kim Bayer describes the Michigan Good Food Charter, as "a framework that helps us see the aspects or categories of a foodsystem that provide community food security from the pieces that we need to have in place... State policy work is happening for food that is healthy, green, fair and affordable." The charter focuses on four main areas: Farms and Farmers, Food System Infrastructure, Institutions, Good Food Access, and Youth.
As such, the remaining local food victories are divided into those categories with two more added: Entrepreneurs, and Mentors.
Farms and Farmers
Stephanie Phillips - The Family Farm
Organic since 1980 The Family Farm has now become a Biodynamic Farm. As quoted from Stephanie Phillips: "'Use what you have and do what you can' this has been my motto. I don't believe in making excuses, like I am a woman or I am black so I have had a hard time. You overcome obstacles by sticking to your convictions and not giving in to those who mock or ridicule your ability. I started this business because I was tired of being subjugated by bureaucrats."
Kate Long  - Deer Tracks Farm
"I would like to think my business is helping the general community."
Jennifer Kangas - Capella Farm
"It's a great feeling to know that people like to eat what we raise and are finding new ways to enjoy food. We are also helping by providing a fair wage for our employees. They are a our key to success."
Tomm & Trilby Becker - Sunseed Farm
"We started Ann Arbor's first year round fresh vegetable CSA. We began an apprenticeship program to help other beginning farmers to start their own businesses."
The Doll Family -  Back Forty Acres
"Farming is a noble profession — from raising the animals to selling the meat — providing things that are real…It is a shame that there are so few meat processors nearby."
Food System Infrastructure
Corinna Borden - Westside Farmers Market
Quoted from what I wrote to Kim Bayer in January: "One day when people say, 'I saw them at the farmers market.' The other person will have to say, 'which one?'"
Nancy Crisp - Saline Farmers Market
Nancy Crisp has managed Saline's markets from the beginning and they are doing great! As she says: "We now have three farmers markets in Saline."
The Roseans - Real Time Farms (check out their newly redesigned website!)
"We are taking on 32 interns, encouraging people's participation nationwide and madly building tools to help our regional food system the world over. Did we mention worldwide?"
Ed Weymouth - Arborcycle
"I like riding my bike and I wanted to turn it into something practical and useful for the community and the burgeoning local systems that are beginning to spread their roots through Ann Arbor."
Tim Redmond/Bill Taylor - Eat Local Eat Natural
"We have made it through nearly three years so we have overcome the temptation to quit when the truck is broken and there is no money in the checkbook and somebody just canceled a big order. The major hurdle that remains: the tough local economy."
Dawn Thompson/Jane Pacheco - Lunasa
As quoted from the ladies of Lunasa: "Connecting over 30 local producers, representing over 1500 locally grown foods and natural products, supported by over 300 members and growing daily. We are planning on opening another Lunasa in Garden City on April 2011!"
Emily Springfield - Preserving Traditions
"Started in 2009 to teach people the skills they need to eat locally all year round... now has over 325 members. People can contact me if they want to teach!"
Institutions
Dan Bair - The Farm at St. Joe
As introduced by Kim Bayer: "Dan told me that his own business called the Careful Farmer comes from a Wendell Berry quote that says, 'the most important thing the land can produce is a careful farmer.'"
(Dan Vernia) - The Royal Park Hotel
Dan Vernia shares he "is working on one plate, one event at a time... We need more consumer education, demand for local food will define our local food system in ways which we can only speculate."
Alex Young - Zingerman's Roadhouse
"At the Roadhouse, our commitment to local went to new heights with the opening of Cornman Farms. Chef Alex found that he was able to get great tasting produce without trucking tomatoes from Arizona."
Silvio & Catia Medoro - Silvio's Organic Pizza
"We are changing our recipes to include more local organic ingredients, such as using Ferris Mills flour for our dough and our Michigan blueberries on our pizza."
Good Food Access
Rachel Chadderdon - Double Up Food Bucks
Launched by the Fair Food Network: "Double Up Food Bucks is coming back to all four [Washtenaw] markets this summer and to 34 others all over Michigan and Toledo."
Jenna Bacalor & Sharon Sheldon - Prescription for Health
"In 2010, Washtenaw County of Public Health was awarded a 2 year, $294,000 grant from the Kresge Foundation. The award will expand the Prescription for Health program which connects low income patients of local medical clinics with farmers markets ensuring greater access to healthy foods."
Youth
Michigan Young Farmers Coalition
"Is based on a model of regional hubs and was started because many young farmers need access to land, financial support, business support, network and community."
Amanda Edmonds - Growing Hope
Dan Bair shared, "Growing Hope offers classroom and afterschool and summer programs for people aged 3 to 21 at its gardens and greenhouses in Ypsilanti." Growing Hope is: "making access to affordable, healthy food available to everyone in our communities in a way that increases self-reliance and supports local food producers and purveyors."
New Entrepreneurs
David Klingenberger - The Brinery
Their song was laughter inducing, gasp worthy, and educational:
Helen Harding/Blake Reetz - EAT
"We are so proud of our state. We love being able to support as many local farmers and purveyors as possible... in 2010 we doubled our catering business and we plan to do that again in 2011. We hope to be part of Downtown Home and Garden food cart court aka Mark's Carts."
Mary Wessell Walker & Michelle Hartmann - Harvest Kitchen
"We received funding from the USDA farmers market promotion program - we are using this money to outfit a new kitchen in Ypsilanti's Depot Town."
Mentors
Deb Lentz & Richard Andres - Tantre Farm
Anne Elder & Paul Bantle - Community Farm of Ann Arbor
The King Family - Frog Holler Organic Farm
Whew!!!
Dan Carmody then spoke about his experience in Detroit and some of the expansion plans for Detroit's Eastern Market. His talk was engaging, informative, and piercing. Several quotes have stuck with me: "The food pyramid that they recommend we eat is exactly the opposite to what they subsidize in the field." "In 2004, there were 80 community gardens in Detroit. In 2011 there are 665." "On Saturday we proudly sell pineapples and oranges because our customers need citrus."
Carmody spoke of Detroit's "poverty of place" and the initiatives he is working towards to help create destinations around food to encourage a greater community. Hence, there are plans for the Eastern Market Corporation to build a teaching and community kitchen space, to build a 2 ½ acre market garden with 3 hoop houses on wheels, and to support mobile food operators. Carmody finished his talk with a very sensible summary. "I don't want to live in a place where Happy Meals are outlawed but I want to live where no one would ever want to buy a Happy Meal."
Ken Meter, of Crossroads Research Center, spoke as a food system analyst looking at our food system through the lens of community. Ken Meter argued "food takes money out of a community" and that the "goal is to build community-based food systems." He showed an alarming graph showing farming income, in real dollars, has not increased in almost 90 years and the price increase in food comes from the middle-men/marketing element. That is directly a result of the prevailing view of our food system as a supply chain. For example: Producers » Processor » Distributor » Retail » Consumer.
"The problem with that is that the producers and consumers are not talking... better to have a value network."
Ken Meter finished his talk with this rallying call, "you can't outsource a local food economy."
The morning concluded with four entrepreneurs sharing their vision for a local food initiative and asking for help. Mark Hodesh is looking for 3 more food carts for his Mark's Carts. Aubrey Thomason has been making cheese at the Zingermans Creamery for 5 years and she wants to source her goat milk locally. She is offering a market for anyone who wants to raise goats for milk in our area. Edward Weymouth is looking for bicyclists and customers for his Arborcycle business. Jeff McCabe is looking for volunteers to make possible his vision of building 20 hoop houses in 20 days starting June 15. He is also looking for people wanting to donate money and 8 more sites to build the hoops.
A myriad of talks filled the afternoon: Farm to School, ABCs of Local Food/Planning/Zoning, Toxins in our food, Michigan Wines, Cottage Food Bill, Four Season Farming in Hoophouses, Food as Medicine, etc.
The day ended with a showing of a few favorites from the 1st annual Michigan Good Food Film Festival, which took place the night before. The judged winner was Edible Avalon's entry. If you have not seen it before: here it is!
Here is the article on annarbor.com