Ever since I wrote about our homegrown Michigan chemical free shrimp offered at The Shrimp Farm Market in Okemos, I wanted to try out a recipe my parents have been raving about for my entire life. When I say my entire life, I mean the recipe comes from the dusty shelves under the basement stairs groaning with hardcover recipe tombs. Tucked amongst seemingly hundreds of cookbooks are copies of the out-of-print Time Life Foods of the World. On pages 66 and 67 in the Latin American cookbook are circles, stars, and exclamation points with a "Super!!" in my mother's handwriting on the top of the page.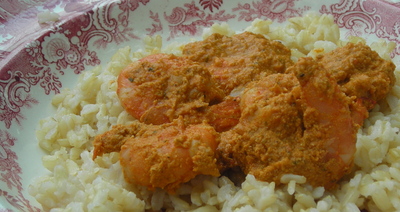 Pipian de Camarones: Sauteed Shrimp with Tomato, Pumpkin Seed, and Coriander Sauce.
I know of two places in Ann Arbor to purchase Russ Allen's Michigan raised shrimp in addition to his store in Okemos or the Okemos Farmers Market: Arbor Farms and Morgan and York.
My parents always described this recipe as, "shrimp with a pumpkin seed sauce," so it was not until I started doing research that I learned pipian sauce is one of the subsets of the classic mole sauces in Mexico. Mole sauces are a thick, dense, intensely complex ground or milled sauce designed to accompany meat or vegetables. There are often many ingredients in the thick sauce, giving an incredible complexity and richness. My first mole experience was in Mexico,halfway through devouring my lunch I learned the main ingredient in the unusual and scintillating sauce was chocolate, which I had never eaten before with chicken.
Here is my modified recipe for this unctuous, nutty, spicy, complex sauce, perfectly accompanying the bite and flavor of the shrimp. In terms of time, we ate an hour after we started shelling the 2 pounds of shrimp because the sauce is ground in the blender. Note: the original recipe called for sugar and pequin chiles, which we changed - also, online wisdom says the sauce will get spicier the longer it sits, overwhelming the subtly of the original intent - so use this all at once and enjoy!
(To serve 6)
2 pounds raw shrimp in their shells
1 ½ cups cold water
½ cup roasted, salted pepitas (pumpkin seeds)
3 medium tomatoes, peeled, seeded and coarsely chopped - or drained, canned Italian plum tomatoes
½ cup coarsely chopped onions
½ cup coarsely chopped, drained, canned pimentos
6 dried chilies (of whatever heat level you find comfortable), crumbled
2 tablespoons coarsely chopped fresh coriander
1 ½ tsp ground coriander
½ tsp finely chopped garlic
1 teaspoon salt
½ tsp black pepper
3 tablespoons vegetable oil
2 tablespoons fresh lime juice
3 cups of cooked rice for accompaniment
Step 1 - Shell and devein the shrimp. Place the shrimp shells in a saucepan, add the 1 ½ cups of water, and bring to a boil. Reduce heat to low, simmer uncovered for about 10 minutes until the liquid is reduced to 1 cup. Pour off the stock, leaving the shrimp shells for the compost pile.
Step 2 - Blend the pepitas until pulverized, add the tomatoes, onions, pimento, chilies, fresh coriander, ground coriander, garlic, salt, and pepper and blend at high speed until the mixture is a smooth puree.
Step 3 - In a large skillet, heat 2 tablespoons of oil until a haze forms. (Cover your body with an apron at this point if you have forgotten, things are about to get messy). Quickly toss with a spoon the shrimp about the oil until the outside is uniformly pink (you do not want them cooked through). Remove the shrimp and place them onto a plate.
Step 4 - Add the remaining tablespoon of oil to the skillet and pour in the pureed sauce. Cook uncovered, stirring frequently for 5 minutes, over moderate heat. Stir in the cup of shrimp stock and the shrimp. Cook over low heat until the shrimp are cooked through (2 minutes). Pour in the lime juice.
Step 5 - Find bowls that are deep and wide, spread the rice over the bottom of the bowl and ladle the shrimp and its sauce on top.
Final note: We used canned tomatoes (which have a lot of juice) and barely green pumpkin seeds. My mother tells me if you use fresh tomatoes and bright green pumpkin seeds the sauce will be green, which is a great contrast to the pink of the shrimp - and a wonderful challenge for me to try this recipe again and again. She also tells me of a dinner party where guests tiptoed back into the kitchen to have third helpings of this meal - ¡Buen provecho!
Here is the article on annarbor.com.