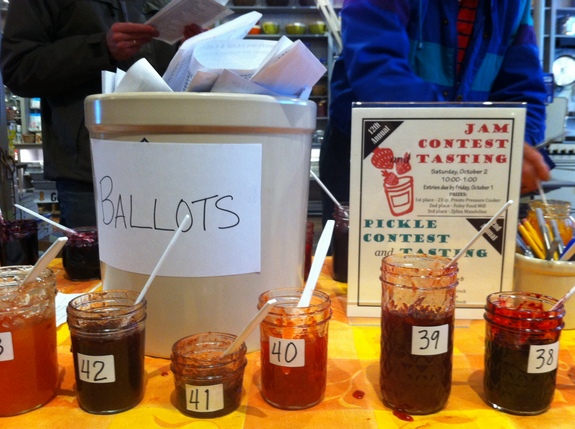 This past Saturday was the 12th Annual Jam Contest and Public Tasting at Downtown Home & Garden. This Saturday, Oct. 9, from 10 a.m. to 1 p.m. is the "2nd Annual Pickle Contest & Public Tasting."
For a business with a storefront that has graced Ashley for more than 120 years, the jam and pickle contests reveal the perspicacity and vanguard thinking of the magnetic owner, Mark Hodesh.
National interest in growing, picking and preserving food parallels the state of the economy. As to the National Gardening Association reports in its recent survey, "food gardening in the U.S. is on the rise… More Americans are recognizing the benefits of growing their own produce, including improved quality, taste, and cost savings."
As you can't control the rest of the world, at least you can control what you are putting in your mouth.
As I stood with Hodesh and watched the gathered tasters, I asked him why he decided to start the jam contest 12 years ago.
"Well, you know that canning is so much fun," he said. "It is also a record of what happened in the summer."
He smiled at the milling participants, gestured towards the table replete with colorful jars, and continued, "That is the diary of the summer. So this year, very few strawberries, not a very good strawberry year. A lot of peaches, a great peach year."
Hodesh paused, thinking, as a big smile crinkled his face.
"Jam making is fun," he said. "People of all ages enjoy it, and this [contest] is a way for people to share, to share their summer experience with each other."
There was much evidence of sharing, exclamations, excited whisperings and conspiratorial asides. "Have you tried 34?" "Did you see the Dandelion Jelly?" "Oh wow, what a beautiful color this is!" "I think that pawpaw is a tropical fruit." "No, pawpaw is actually native of the Midwest, what did you think of the jam?" "This is delicious!"
I met Amy Lesemann, who submitted two entries along with her daughter, Caroline Elliot. This is their third year participating in the contest.
"We make jams every year and give them as gifts for the family – and so it was really cool to see that this was going on," Lesemann said. "Every year we look for a new and a different kind of recipe, because that is what makes it, something unusual."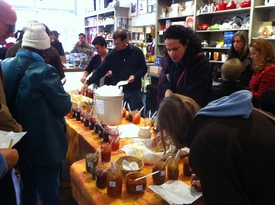 All ages were present – spreading dark red jams, citrine yellow jellies, light orange butters, and bright red marmalades on top of bread in order to pop into smiling mouths.
There were 69 jars available for tasting, with a scorecard that listed all of the names: Michigan-Possible Blueberry, Gorgeous George's Grape Ginger Jam, Peachy-Keen Spreadable Butter, Elderberry Jelly and Heirloom Tomatillo Thai Jam to name a few. Certain tasters were silent and secretive, masticating solemnly with intense expressions, holding ballots close. Some families called over to each other over the cheerful table.
As Hodesh shared, "It is the egalitarian country fair – where everyone gets to vote."
The 12th Annual winners are: - First place: The 23-quart Presto Pressure Cooker was awarded to Melissa Richards for her Sweet and Spicy Pizza Jam. - Second place: Mickie Wordhouse's Kiwi and Asian Pear jam garnered the stainless steel Foley Food Mill. - Third place: The Zyliss Mandoline went to the victorious Allison Stupka & Juliana Fried for their Benzie County Black Raspberry Jam.
If you would like to participate in the pickle contest, drop off your entry to Downtown Home & Garden by Oct. 8. Voting will take place 10 a.m. to 1 p.m. Oct. 9.
Here is the article on annarbor.com