David Beemer, of OmniUnum Farm, decided he wanted more control over his food supply.  In lieu of purchasing Michigan peat and compost, Beemer decided to raise poultry for their manure, a nutrient-rich and accessible fertilizer. Beemer choose Muscovy ducks as his poultry of choice after being served it at Paul Bocuse's restaurant in Lyons, France. "I asked for something that I could not get in this country… He brought me Magret - and I ate it. They asked me what I thought it was and I said, "that was probably the best veal I have ever had." And they said, "This is Muscovy Duck.""
Beemer has partnered with Antoinette Benjamin, of Food for all Seasons Catering, because "she is the only one I have found who knows how to cook them. I am a good example - I overcooked the last one. I just didn't have time to follow the directions she gave me."
Endemic in an animal designed to perch in trees not wade in water, Muscovy ducks have about 18% fat as opposed to Pekin duck with 29% fat. This fat difference and the less significant oil gland in the Muscovy alters the flavor of what our taste buds recognize as "duck" and can complicate cooking Muscovy for those not familiar with the meat.
According to Benjamin, trained by renowned French chef Madeleine Kamman, "cooking Magret is a matter of technique. So if you look up cooking duck breast, it is different with the Muscovy. Just because of the fat."
Recently, I was able to try Muscovy courtesy of ici Urban Bistro in Washington DC. The consensus at the table was that the meat was "absolutely fabulous" and unlike anything anyone had eaten before - a bold, unique flavor arising from a texture that crumbled like veal, unlike poultry's striation.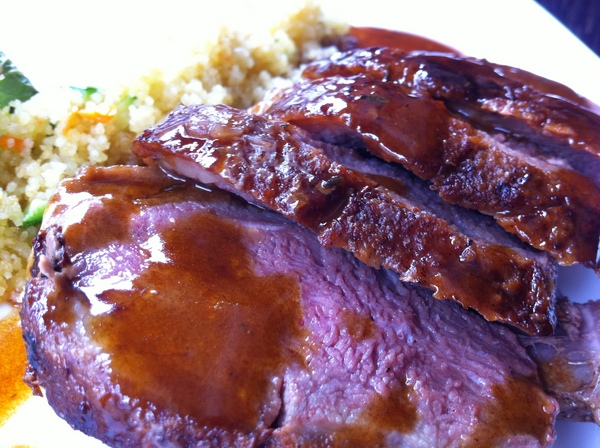 I was also able to see firsthand the difficulty of cooking Muscovy. When the breast slices arrived to the table they were medium rare and succulent. By the time we finished eating the meat (20 minutes later?) the slices were cooked through from the residual heat. The flavor was still there but the texture was dry and unappealing.
Beemer's partnership with Antoinette Benjamin is an opportunity for those of us curious to taste more of this unique fowl. As Benjamin says, "Magret is the BEST for the Muschovy - I mean it is JUST AMAZING. I mean as I said, I don't think that people - most people wouldn't know, like David, what they are eating. They wouldn't know it was duck breast."
Beemer and Benjamin are planning to hold a Muscovy dinner in the Spring. If you are interested, contact David Beemer at OmniUnum Farm or Antoinette Benjamin at Food for all Seasons.
(Link to article on annarbor.com coming soon...)