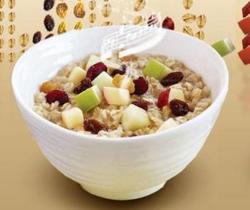 Why do we care that McDonalds has introduced "oatmeal" with more calories than their hamburger and with more sugar than a Snickers bar? I put "oatmeal" in quotes because, according to Mark Bittman's How to Make Oatmeal: Wrong, the product should be described as "oats, sugar, sweetened dried fruit, cream and 11 weird ingredients you would never keep in your kitchen."
As of Saturday, the article has lived in the top 10 emailed list for The New York Times since it was published on Tuesday, February 22. Apparently, a lot of people care.
My question is why? Are they preaching to the choir? Or do people actually think in this day and age there is anything healthy about walking through the fabled double arches?
Whether it be SuperSize Me, Eric Schlosser's #1 bestseller Fast Food Nation: The Dark Side of the All-American Meal, or a simple read through McDonalds menu ingredients online. We all know McDonalds is not healthy, yet stories continue to be written, emailed, and commented on - detailing the exact nature of the unhealthiness.
Conrad's "the fascination of the abomination" comes to mind, our inability to look away from a train wreck. However, the true abomination is this. Everyone knows McDonalds is unhealthy and people go there because they have no choice. They have no choice, because as Michel Nischan of the Wholesome Wave Foundation put it at the TEDx food conferece, "they can't afford" real food.
According to the Fair Food Network, 92% of all Detroit food stamp retailers offer no fresh fruits and vegetables. For an urban food desert like Detroit, and for the rural food deserts in Iowa, the dried fruit in McDonalds "oatmeal" might be the closest a child gets to biting into an apple. That is the real abomination, and worth talking about.
Here is the article on annarbor.com.